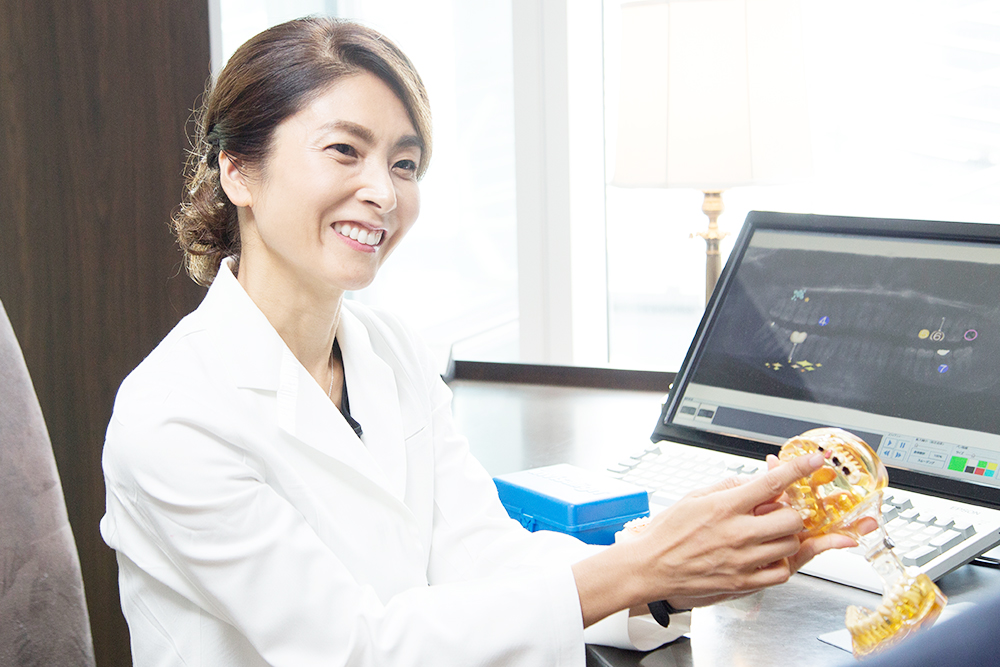 Our "Comprehensive Oral Examination" – Advantages and Features
Have you experienced no pain but discomfort in your mouth, or would you like to learn more about your dental condition? Our "Comprehensive Oral Examination" is the answer to your needs; we would like to suggest that you have a more precise and comprehensive examination than a regular dental checkup.
One of the most important features of this service is that you can have your treatment diagnosed by the doctor who is dedicated to that field as a one stop service. Feel free to consult with our professional.
Details of the "Comprehensive Oral Examination"
Comprehensive Oral Examination is a set of examinations as shown below and counseling. Even if there are no abnormalities found in the examination, we still offer counseling.
X-ray Examination
An examination to check the condition of the roots of the teeth, tooth decay between the teeth, and the alveolar bone that supports the teeth.
X-rays are taken for all upper and lower teeth.
Intraoral Photographic Examination
This is an examination to determine the current condition of your teeth. This is necessary for us to explain the condition of the teeth during the consultation.
The patient's lips are held to the left and right with the instrument, then we take multiple pictures of your mouth.
Periodontal examination
This is an examination to check the progress of periodontal disease.
A probe (i.e., a needle with graduated scale) is inserted into your periodontal pocket to measure its depth and any bleeding from the gums.
Model Examinations
This examination is to examine the shape, alignment and bite alignment of the teeth.
We place the tray with the medical material in your mouth to take a denture mold.
Features of our Counseling
Our counseling session will take approximately one hour in our counseling room so that you can speak with us in a calm and relaxed manner.
Whenever possible, we will tailor the treatment plan to your needs, and offer the price up front until you are satisfied. If needed, you may review the details of your treatment plan and fees, and then have another consultation later.
If you seek implant or orthodontics, we will also present with the results of our analysis of this counseling.
The Flow of our "Comprehensive Oral Examination"
Reservations
Please call us to make an appointment. Our service is by appointment only.
On site medical examinations
Please secure about 90 minutes so that you go through several types of medical examinations.
On site counseling
It will take around two weeks for us to review your exam result and prepare the consultation sheet. We ask that you come to our clinic again for the counseling, during which we will carefully explain your current condition, your future treatment plan, and the expected costs.
Treatment
If we think you need treatment, we will take necessary actions with your consent.
Other service lists
Recommended treatments
Contact Us
Please feel free to contact us to make an appointment for a consultation
or to ask questions about your treatment.
You can call by tapping the number
By appointment only

Operating hours
9:30~12:30/
14:00~17:30

  
Office Hours

Mon-Sat: 9:30~12:30/
14:00~17:30
Closed

Sundays and Holidays
Office hours
Mon
Tue
Wed
Thu
Fri
Sat
Sun/
Holidays
9:30
~
12:30
〇
〇
〇
〇
〇
〇
×
14:00
~
17:30
〇
〇
〇
〇
〇
〇
×
9-7-1 Akasaka, Minato-ku, Tokyo 107-6206, Japan
Midtown Tower 6F
・ Directly connected to Roppongi Station on the Tokyo Metro Hibiya Line and Toei Subway Oedo Line.
・ 7 minutes walk from Nogizaka Station (exit 3) on the Tokyo Metro Chiyoda Line
・ Eight-minute walk from Roppongi 1-chome Station (Exit 1) on the Tokyo Metro Namboku Line
Terrestrial map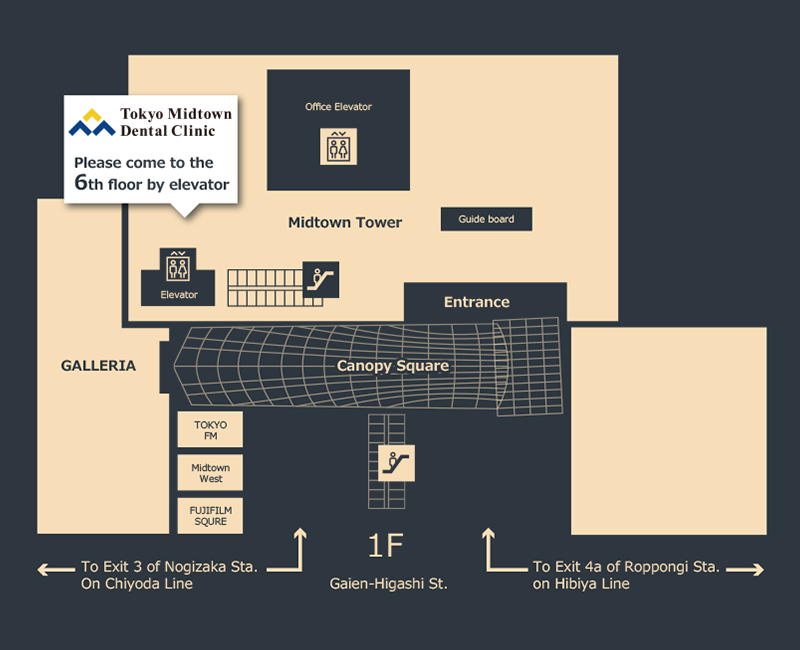 *Tap to enlarge
Inquiries by phone
By appointment only
operating hours 10:00~18:30
Closed on Sundays and Holidays.
03-5413-7912
Close