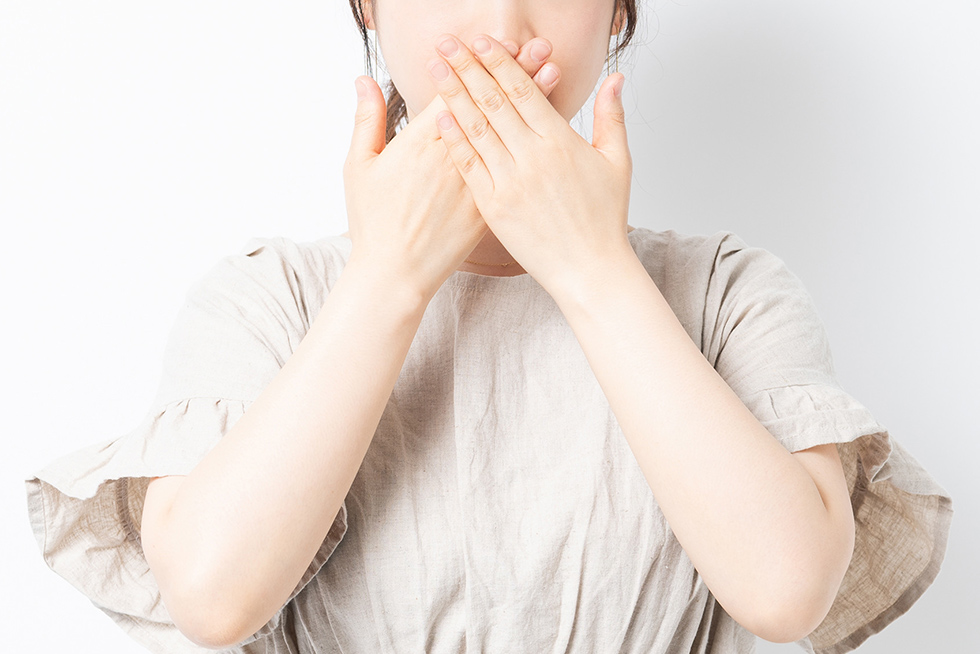 Do you know the types of bad breath?
There are many causes of bad breath, some of which are by illness. There are three main types of bad breath:
Physiological bad breath
This can happen to anyone. The odor gets stronger after waking up, when you are hungry or when you are nervous. The decrease in saliva production increases the amount of bacteria in the mouth, generating a large amount of gas called volatile sulfur compounds. As countermeasures, increasing saliva by diet and hydration, and toothbrushing are effective.
Bad breath caused by food
This is caused by strong-smelling foods such as scallion, garlic, and cigarettes. All of these are temporary, and the smell will fade over time.
Pathological bad breath
Most pathological bad breath results from abnormalities in the mouth, such as gum disease, tooth decay or tartar. However, it is important to note that bad breath may be manifested by sinusitis (i.e., empyema), digestive disorders, and diabetes, etc.
What causes pathological bad breath?
Tooth decay
Bacteria and food debris accumulate in the holes created by the decayed teeth, leading to bad breath. As the disease progresses and the nerves rot, it produces a strong odor.
About "Treatment of tooth decay"
Periodontal disease (gingivitis)
There are no symptoms in the early stages, and as the disease progresses, gingival bleeding with pus appears from the gums and bad breath becomes stronger.
About "Treatment of periodontal disease"
Lichen of the tongue (tongue coating)
Tongue coating is a mass of moss-like bacteria that clings to the surface of the tongue and can be confirmed as whitish deposits. You can remove it by cleaning your tongue.
Plaque
The majority of plaque is a lump of bacteria that attaches to the surface of the teeth. It feeds on the remnants of food and, over time, turns into tartar. It can also cause tooth decay and gum disease.
About "Oral Dental Cleaning"
About "Comprehensive Oral Examination"
(Subheading) Other diseases
Since the mouth and nose are connected, pus from empyema or throat inflammation may flow into the mouth, leading to bad breath. In addition, bad breath may appear due to diseases of the digestive systems. Treating the illness that causes the bad breath can help to eliminate the odor.
How to prevent bad breath
To prevent bad breath, it is important to improve your oral environment. Periodontal disease in particular can cause a strong bad breath, so make sure that you try to prevent it on a daily basis without forgetting the habit of brushing your teeth.
Bad breath can also be a signal of trouble in your mouth and body. If you are concerned about bad breath, please consult with us.