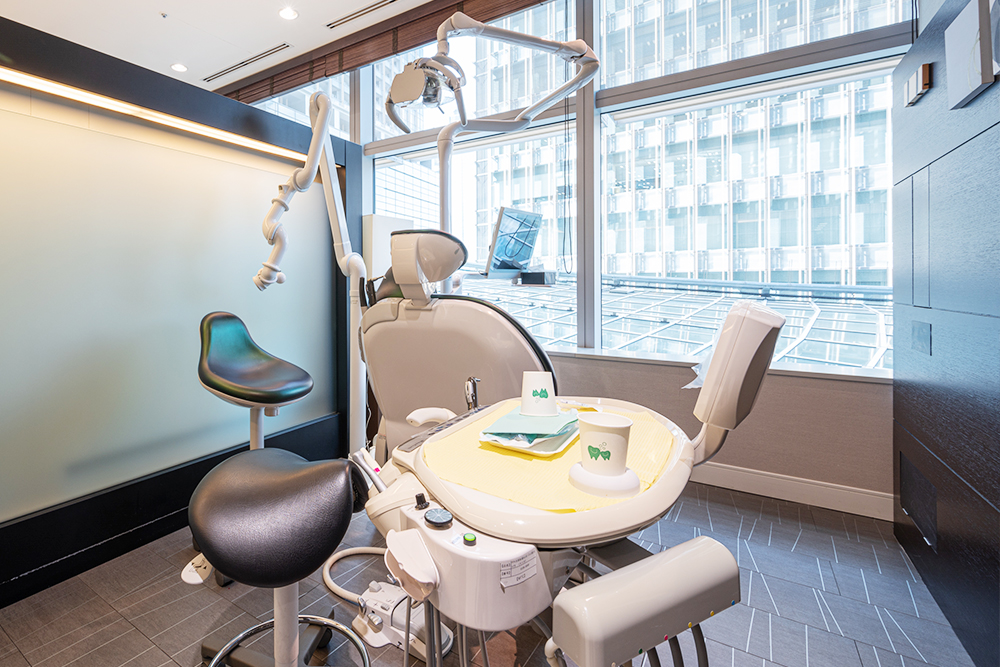 Oral Dental Cleaning – Advantages and Features
Since you cannot see the inside of your mouth by yourself, you may be left unbrushed area even if you are taking good care of your teeth.
Tartar and plaque can easily harbor bacteria (such as carious bacteria and gum disease), which can increase the risk of tooth decay and gum disease if left untreated. Regular dental cleanings can help maintain oral health and keep your teeth aesthetically pleasing.
Additionally, our dental hygienists offer brushing instruction. By taking good and proper care of your teeth on a daily basis, you will be able to keep them looking beautiful as if you have just had your dental cleaning.
Recommended if …
Midtown Cleaning
Features of Midtown cleaning
Midtown cleaning is a great way to restore shiny, beautiful teeth and is recommended if you are concerned about staining on the surface of your teeth. We also remove tartar from fine crevices and even remove stains from the back of your teeth or in a deep pocket which is beyond your daily teeth care.
The treatment is very gentle such as induce relax sleep and uses a special device, this quickly removes coffee stains, tobacco tar and other stains from your teeth surface, leaving them shiny and bright.
Flow of our Dental Cleaning
(1) Brushing and flossing
A special instrument is used to remove plaque from the surface of your teeth.
(2) Scaling
A special instrument called scaler is used to remove tartar that cannot be removed with a toothbrush.
(3) Stain removal
A jet of powder containing fine particles of amino acids is sprayed onto your teeth surface. Stains (tobacco tar and tea stains) can be removed from teeth without damaging the tooth surface.
and a stain remover which can remove stains effectively with tooth paste contains fluoride. The treatment make it possible to take back original brightening color.
(4) Tooth surface polishing
As a final touch, the treatment paste with nanoparticle hydroxyapatite is used to polish the surface of your teeth to a glossy finish.
This prevents tooth decay while refreshing your mouth.
Fluoride application [Option:2,200yen (tax included)]
Fluoride coating will prevent teeth from decaying.
We recommend that receive the treatment regularly If you're prone to cavities.
*This service is only available on request. There is an additional charge for this service.
※Midtown cleaning will restore the original whiteness of your teeth. You can combine whitening (teeth bleaching) process to enhance the whiteness.
※If you are in pain or unable to chew, or if you need urgent treatment, we recommend that you give priority to treatment and we may not be able to clean it on the same day.
※Dental cleaning can reduce the number of bacteria in your mouth. We recommend that you perform dental cleaning before starting treatment for caries and periodontal disease so that you can reduce the risk of tooth decay and periodontal disease recurrence.
Home care
We would like to introduce some of the home care products we offer at our clinic. You can easily take care of your dental needs at home.
For more information, please contact the concierge at the reception.
Whitening Toothpaste "Super Smile Solution®"
Whitening without damaging your teeth!
It is "10 times" more effective at controlling plaque than conventional toothpaste!
More than "4 times" as effective as commercial products for whitening!
"Super Smile Official website(https://www.supersmile.jp/)"
Other service lists
Recommended treatments
Whitening
when you wish more beautiful teeth and maintain your whiteness.
See details
Ceramic treatment
when you want to whiten teeth that are difficult to improve with drugs.
See details
Gum peeling
when you want to improve discoloration and darkening of gums.
See details
Contact Us
Please feel free to contact us to make an appointment for a consultation
or to ask questions about your treatment.
You can call by tapping the number
By appointment only

Operating hours
9:30~12:30/
14:00~17:30

  
Office Hours

Mon-Sat: 9:30~12:30/
14:00~17:30
Closed

Sundays and Holidays
Office hours
Mon
Tue
Wed
Thu
Fri
Sat
Sun/
Holidays
9:30
~
12:30
〇
〇
〇
〇
〇
〇
×
14:00
~
17:30
〇
〇
〇
〇
〇
〇
×
Notice of temporary closure
9-7-1 Akasaka, Minato-ku, Tokyo 107-6206, Japan
Midtown Tower 6F
・ Directly connected to Roppongi Station on the Tokyo Metro Hibiya Line and Toei Subway Oedo Line.
・ 7 minutes walk from Nogizaka Station (exit 3) on the Tokyo Metro Chiyoda Line
・ Eight-minute walk from Roppongi 1-chome Station (Exit 1) on the Tokyo Metro Namboku Line
Terrestrial map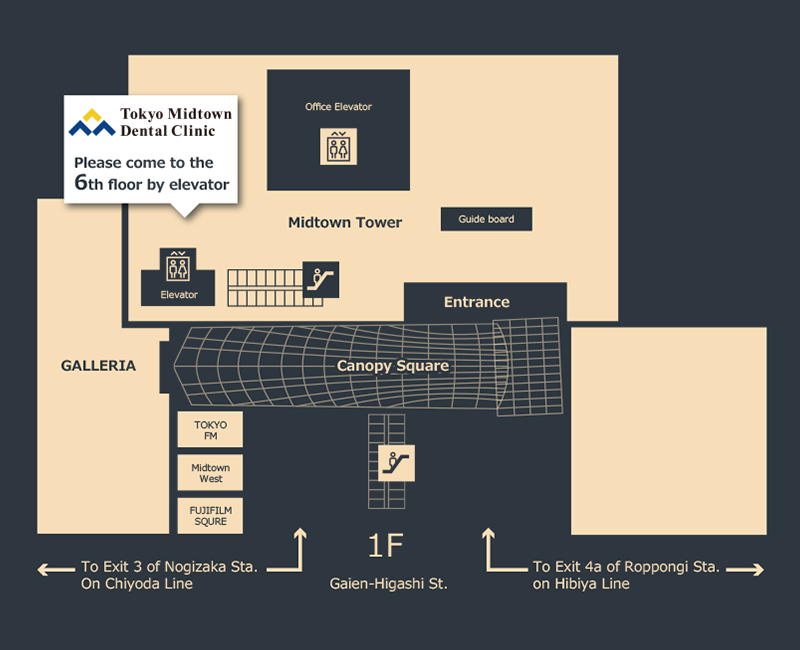 *Tap to enlarge
Inquiries by phone
By appointment only
operating hours 10:00~18:30
Closed on Sundays and Holidays.
03-5413-7912
Close