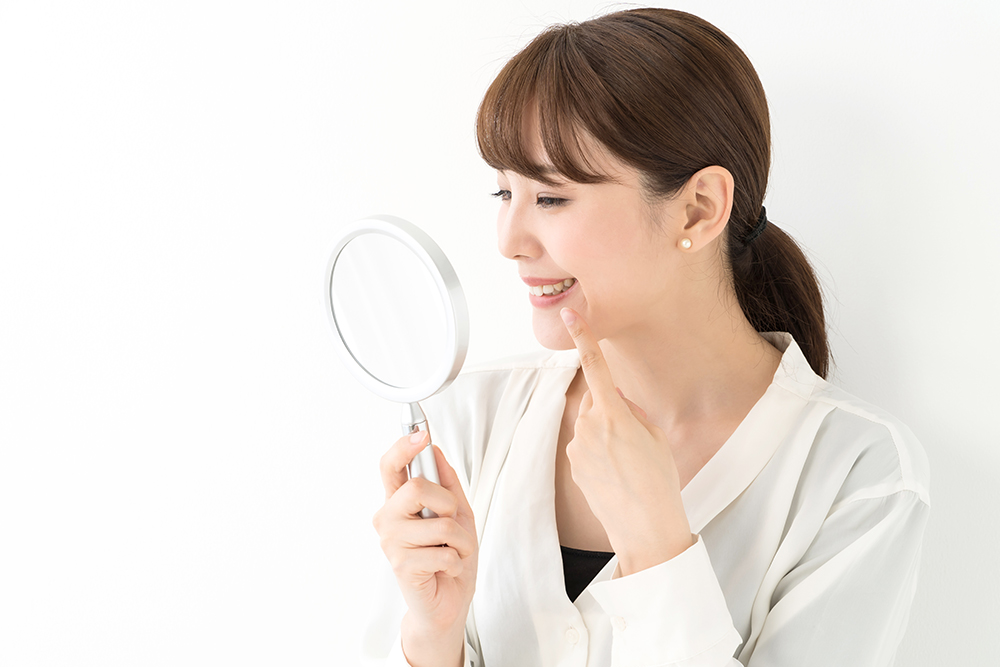 Causes of yellowing and staining of teeth
Yellowing and staining can be caused by the following reasons:
Congenital and age-related
Dentin is largely responsible for the color of the teeth because the internal pulp is covered by creamy white dentin, which is surrounded by translucent enamel. This color is unique to each person, so your teeth may be a slightly yellowish from birth.
It is also possible for the dentin to "change" to a yellowish color with age.
Pigments in foods and luxury grocery items
Foods and beverages such as coffee, wine, tea and curry, as well as tobacco, contain ingredients that can easily stain your teeth. If you have been consuming these foods, drinks, and delicacies for years and neglect to clean your teeth, they can become yellowed and stained.
Tartar
If you have periodontal disease and bleeding from your gums, the tartar may darken when it combines with the plaque in your mouth.
Discoloration by disease and drugs
Teeth may be discolored due to the symptoms of certain diseases or side effects of drugs.
In addition to these , if the pulp of the tooth has died for any reason, the tooth may turn black.
Teeth whitening treatment
We can remove or bleach your teeth stains in the following ways
Midtown Cleaning
Midtown cleaning is a great way to restore shiny, beautiful teeth and is recommended if you are concerned about staining on the surface of your teeth. We also remove tartar from fine crevices and even remove stains from the back of your teeth or in a deep pocket which is beyond your daily teeth care.
The treatment is very gentle such as induce relax sleep and uses a special device, this quickly removes coffee stains, tobacco tar and other stains from your teeth surface, leaving them shiny and bright.
About "Oral Dental Cleaning"
Home Whitening
This procedure allows you to whiten teeth whenever and wherever you want. We use a therapeutic mouthpiece and whitening agent made in the dental clinic.
About "Teeth Whitening"
Office Whitening
This is a whitening procedure that can be completed in the dental clinic. We apply a whitening agent to the surface of the teeth and perform as the operation . It is highly effective and recommended if you want to whiten your teeth in a short period of time.
About "Teeth Whitening"
Teeth whitening through dental treatments
Yellowing or staining is not the only reason for you to worry about the color of your teeth. The color of crowns and inlays, which are treated for chipped teeth, directly appears.
For example, please imagine a metal or so-called silver teeth.
If you are currently treated with metal or other materials and wish to keep your teeth close to the original color, we offer the following options.
Ceramic crown inlay (all-ceramic)
This filling is made up entirely of ceramic. It is very close to natural teeth in color, texture and luster. No risk of metal allergies and less likely to deteriorate, such as discoloration and abrasion, over time than composite resin. It is also known as a white covering or filling.
About "Ceramic Crown Treatment"
Zirconia Crown
Zirconia has the advantage of being aesthetically transparent and durable; it is known as "an artificial diamond" among ceramic materials. It may be a good choice for crowns in the back of your mouth.
About "Ceramic Crown Treatment"
Metal Crown
Metal is a common material for dental crown implants, which are known as "silver-capped teeth" or "gold-capped teeth". Metal crowns are covered by health insurance.