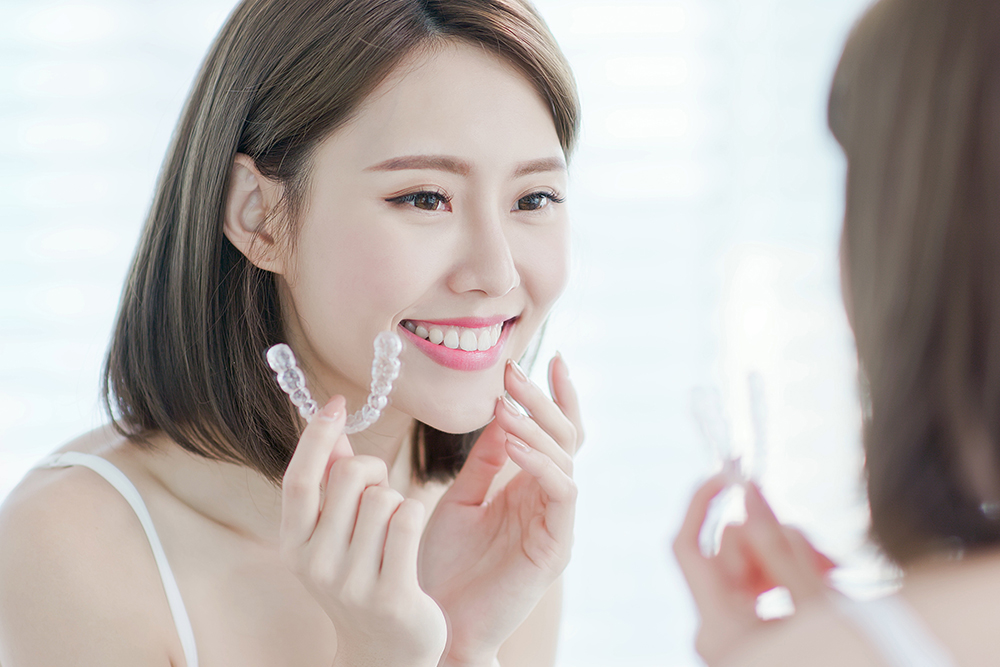 Increased risk of tooth decay and periodontal disease
If the teeth are not aligned well, the following disadvantages are possible:
Worried about your appearance
Decrease in chewing efficiency
Poor cleanability increases the risk of tooth decay and gum disease. It also causes bad breath.
Strain on the jaw joint
Problems in pronunciation
Thus, malocclusion (i.e., misaligned teeth) not only reduces oral aesthetics but also has a significant impact on oral aesthetics and its surroundings.
Causes of malocclusion
The causes of malocclusion can be divided into three main categories.
Genetics
The size, shape and position of the jawbone are to some extent determined by heredity. This is why parents and children tend to share the same maxillary protrusion (or protruding teeth) and mandibular protrusion (or catching mouth).
Tooth decay in deciduous teeth
If the decay of baby teeth is left untreated, leading to premature tooth loss and delayed eruption (growth) of permanent teeth, the space for lining up the teeth is lost. As a result, malocclusion may occur.
Oral Habits
Habits such as finger sucking and sticking out your tongue can lead to crowdy teeth and open bites (i.e., gaps in the front teeth when you bite). Other habits such as mouth breathing and nail- biting can also affect your bite.
Types of malocclusion
Crowded teeth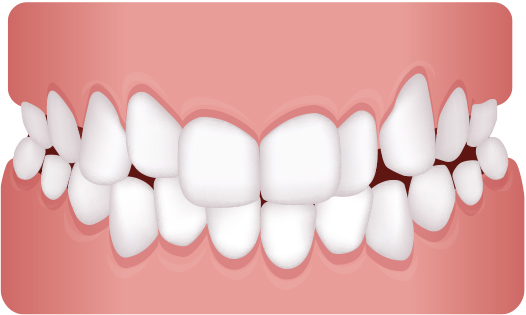 The teeth do not fit into the size of the jaw and grow in an uneven or rickety pattern. Also known as snaggletooth. Double teeth are also a part of this flock. In addition to aesthetically unwelcomed, they can also cause brushing residue and put you at risk for tooth decay and periodontal disease.
Maxillary protrusion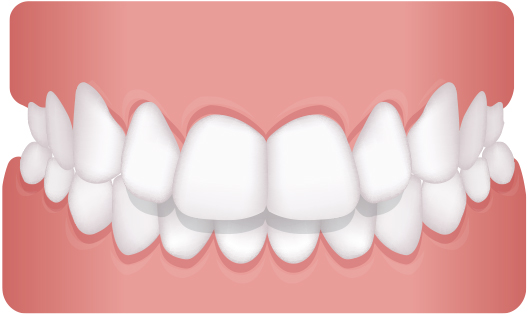 The upper front teeth are protruding forward. It is commonly referred to as "protruding teeth". The protruding teeth are at risk of being bumped, cutting the lip or breaking the front teeth.
Mandible protrusion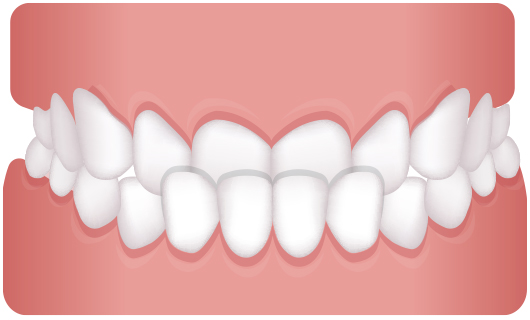 This is a condition in which the lower front teeth protrude forward. This is commonly called a "catching mouth" and is also called an opposite occlusion, as the upper and lower teeth bite together in opposite directions. This can cause problems with chewing and articulation.
Open occlusion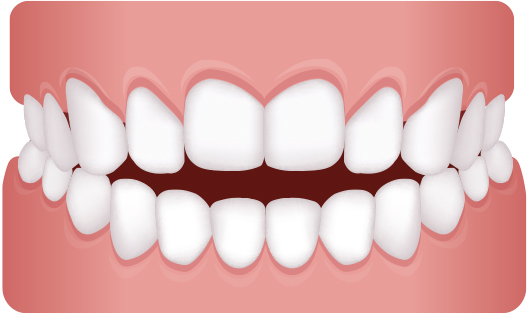 Also known as an "open bite," this is a condition in which a gap is created in the front teeth when the upper and lower teeth bite together. It may make it difficult to chew through food with your front teeth. It may also cause mouth breathing and pronunciation problems.
Habitual finger sucking can be the cause of this condition.
Scissor bite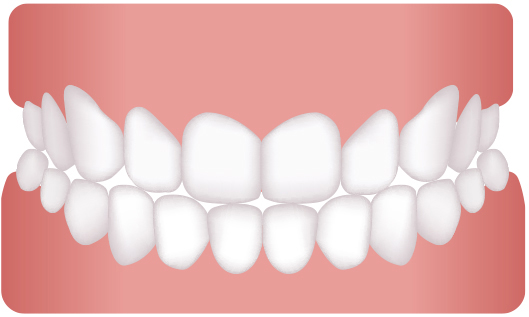 The tips of the upper and lower front teeth are interlocked with each other when the upper front teeth should be positioned slightly forward when you bite together. This can easily lead to tooth wear and fractures.
Overlap occlusion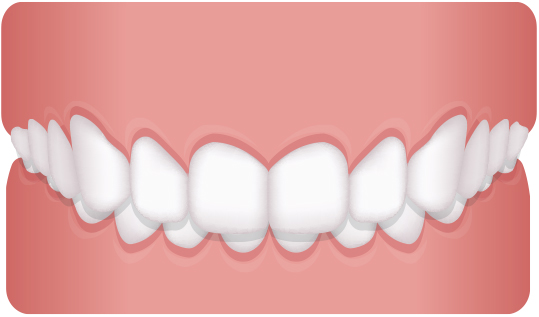 This is a condition where the front teeth are covered deeper than the normal bite, also known as a "deep bite". It can easily put a strain on the teeth and jaw and can cause temporomandibular problems.
Vacant dentition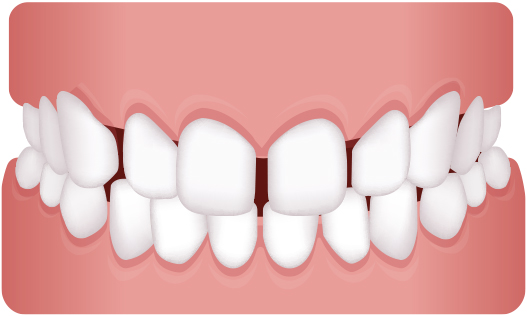 A gap between the teeth is what is known as a "gap teeth" . In addition to being unsightly, food can get stuck and put you at risk for tooth decay and gum disease.
Treatment of malocclusion
Treatment for malocclusion varies depending on your age and oral condition. It can be divided into two main types: Pediatric orthodontics・Jr.orthodontics and orthodontics.
Pediatric orthodontics・Jr.orthodontics
Pediatric orthodontics・Jr.orthodontics, as the name implies, is an orthodontic treatment that children receive to correct their jaw as it develops. It balances the bite by widening the jawbone and inhibiting or promoting growth. In some cases, malocclusion can be corrected without extracting tooth.
About "Pediatric orthodontics・Jr.orthodontics"
Orthodontics
Orthodontics is a treatment for patients who have completed their growth spurt. Wire dental braces and mouth-piece type dental braces are the most common. We aim to improve malocclusion by adjusting the alignment of teeth one by one.
About "Orthodontic Treatment"
Contact Us
Please feel free to contact us to make an appointment for a consultation
or to ask questions about your treatment.
You can call by tapping the number
By appointment only

Operating hours
9:30~12:30/
14:00~17:30

  
Office Hours

Mon-Sat: 9:30~12:30/
14:00~17:30
Closed

Sundays and Holidays
Office hours
Mon
Tue
Wed
Thu
Fri
Sat
Sun/
Holidays
9:30
~
12:30
〇
〇
〇
〇
〇
〇
×
14:00
~
17:30
〇
〇
〇
〇
〇
〇
×
9-7-1 Akasaka, Minato-ku, Tokyo 107-6206, Japan
Midtown Tower 6F
・ Directly connected to Roppongi Station on the Tokyo Metro Hibiya Line and Toei Subway Oedo Line.
・ 7 minutes walk from Nogizaka Station (exit 3) on the Tokyo Metro Chiyoda Line
・ Eight-minute walk from Roppongi 1-chome Station (Exit 1) on the Tokyo Metro Namboku Line
Terrestrial map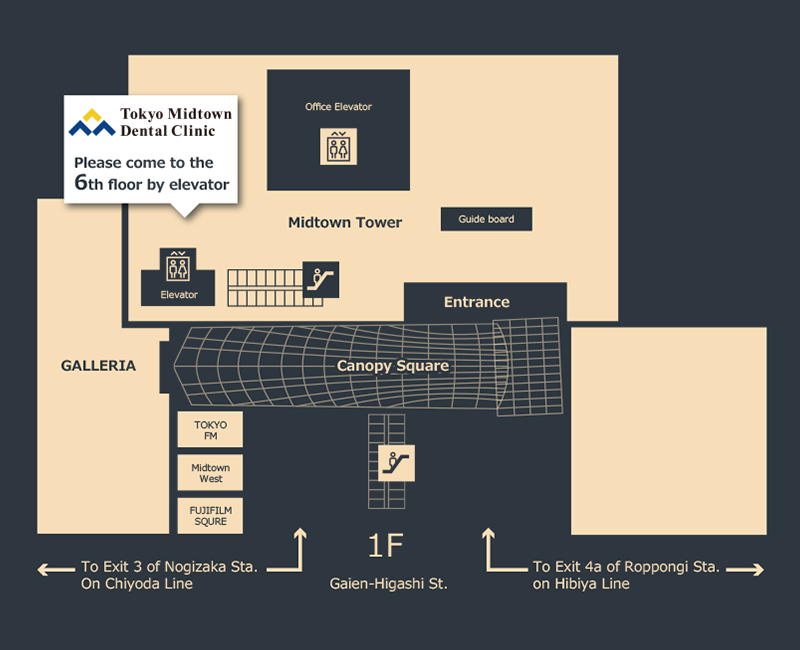 *Tap to enlarge
Inquiries by phone
By appointment only
operating hours 10:00~18:30
Closed on Sundays and Holidays.
03-5413-7912
Close