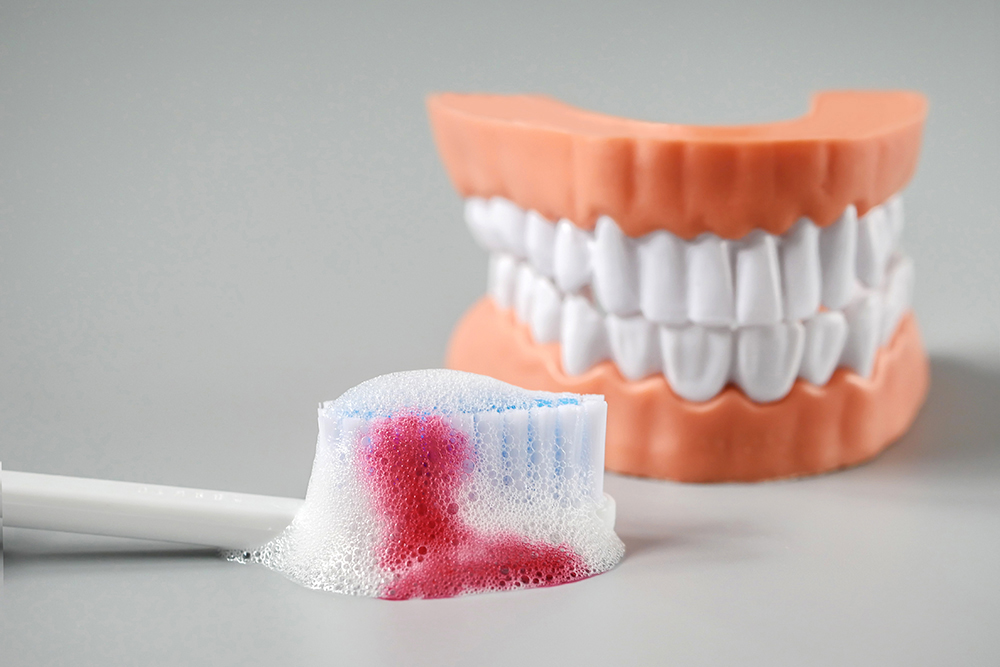 Causes of bleeding from gums
If the gums bleed when you brush your teeth, there may be something wrong with your mouth. If your gums are healthy, it won't bleed with a stimulus such as tooth brushing.
The main cause of blood from the gums is periodontal disease. Periodontal disease is a disease in which bacterial infection occurs in the tissues that support the teeth, and the main symptom is an inflammatory reaction in the gums. Inflamed gums become swollen and easily damaged by even the slightest stimulus. This results in bleeding.
Periodontal disease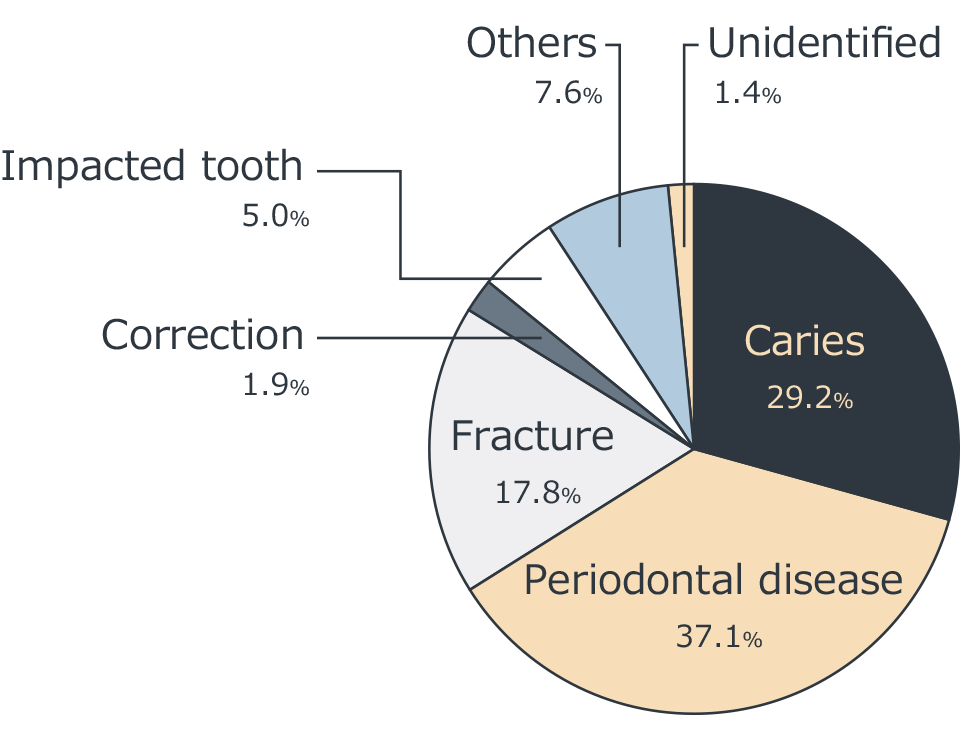 Periodontal disease is the leading cause of tooth loss1). In severe cases, not only the gums but the bone can be destroyed. The result is the loss of the tooth itself.
Periodontal disease can be divided into two main categories: gingivitis and periodontitis.
1)(公財)8020推進財団.
第2回 永久歯の抜歯原因調査報告書.
東京: 8020推進財団; 2018.
Gingivitis
Gingivitis, as the name suggests, is a relatively mild form of periodontal disease in which only the gingiva (i.e., gum) is inflamed. The main symptoms are swollen gums and bleeding after brushing.
According to a survey of dental diseases by the Ministry of Health, Labour and Welfare, about 40% of the population has gingival bleeding, which means many people have experienced this symptom.
Periodontitis.
Periodontitis is a condition in which bacterial infection has spread to the periodontal ligament and alveolar bone. Symptoms such as "painful chewing", "wobbly teeth", and "pus on the gums" may appear.
Treatment of periodontal disease
The main goal of treating periodontal disease is to remove plaque and tartar, which are hotbeds of bacteria. We strive to establish a clean oral environment while balancing both self-care and professional care.
About "Treatment of periodontal disease"
To avoid bleeding from your gums
Bleeding from your gums means that your daily brushing has room for improvement. Bleeding may make brushing even more difficult, but be sure to carefully remove the stains with fine brush movements. Of course, there are many stains that cannot be removed by your own brushing alone, so please get regular professional care.