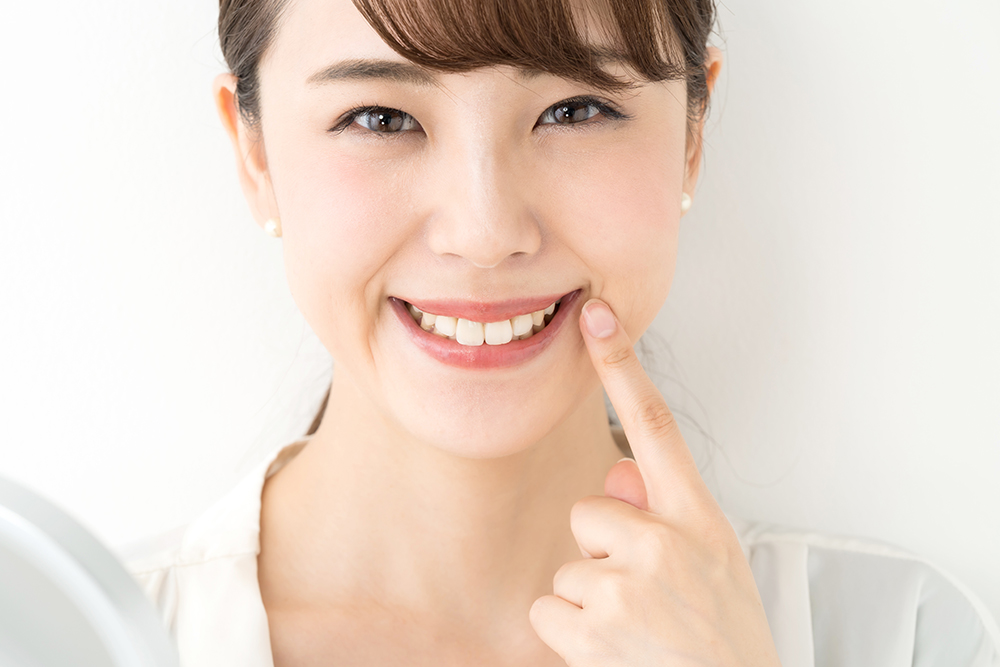 What is teeth whitening?
Teeth whitening is a method of whitening your teeth with a whitening agent.
The whitening agent can make your teeth whiter than the color of your own teeth. The whitening will be more effective after you took dental cleaning service which remove stains from coffee, red wine, tea, curry, etc.
Features of our whitening services
"Office Whitening" performed in the clinic is a procedure to make your own teeth whiter.
We also offer a menu of home whitening options if you want to do the whitening at home or want to keep the radiant white color after an Office Whitening procedure.
Whitening Menu
Office Whitening
This is a whitening procedure performed in our clinic. The effect varies from person to person, but on average, many people feel that their teeth are whiter after three to four treatments.
If you are a new patient, first we will check your oral condition before operating the whitening procedure.
Home Whitening
This is a whitening procedure done at home. You will use a mouthpiece and do the procedure yourself. The whiteness of the teeth may vary from person to person, but many patients feel the whiteness after two weeks continuous use.
The whitening process is slower than Office Whitening because you do at your own pace, though this whitening will preven from retuning discolored teeth.
FAQ
Q:How often should I visit to for teeth whitening?
A

:While there are personal differences, the majority of patients notice whiter teeth after three or four appointments at our clinic on average.
Q:How often should I visit to keep my teeth whiter?
A

:We recommend monthly visits.

You may make an appointment when you notice discoloured teeth, but a minimum of a four day interval between appointments is required. Personal oral hygiene is important to maintain white teeth so don't hesitate to ask us about personal oral hygiene.
Q:What ages do you accept?
A

:Normally, we accept appointments from patients no younger than 20 years old.

Please contact us to ask if we will accept patients 19 years old or under.
Other service lists
Recommended treatments
Ceramic treatment
when you want to whiten teeth that are difficult to improve with chemical agent.
See details
Gums peeling
when you want to make your gums beautiful as well as your teeth
See details
Cleaning
when you want to restore the natural and original whiteness of your teeth
See details
Contact Us
Please feel free to contact us to make an appointment for a consultation
or to ask questions about your treatment.
You can call by tapping the number
By appointment only

Operating hours
9:30~12:30/
14:00~17:30

  
Office Hours

Mon-Sat: 9:30~12:30/
14:00~17:30
Closed

Sundays and Holidays
Office hours
Mon
Tue
Wed
Thu
Fri
Sat
Sun/
Holidays
9:30
~
12:30
〇
〇
〇
〇
〇
〇
×
14:00
~
17:30
〇
〇
〇
〇
〇
〇
×
9-7-1 Akasaka, Minato-ku, Tokyo 107-6206, Japan
Midtown Tower 6F
・ Directly connected to Roppongi Station on the Tokyo Metro Hibiya Line and Toei Subway Oedo Line.
・ 7 minutes walk from Nogizaka Station (exit 3) on the Tokyo Metro Chiyoda Line
・ Eight-minute walk from Roppongi 1-chome Station (Exit 1) on the Tokyo Metro Namboku Line
Terrestrial map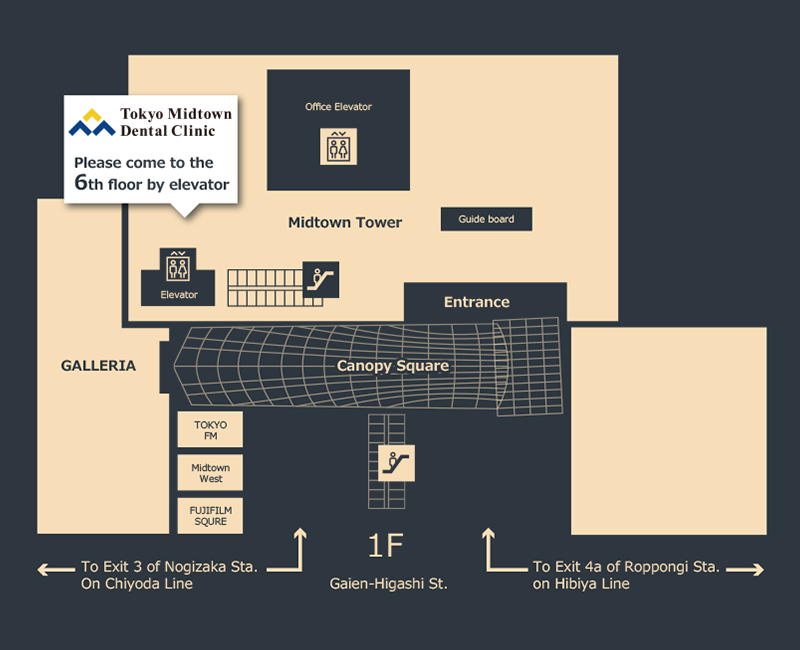 *Tap to enlarge
Inquiries by phone
By appointment only
operating hours 10:00~18:30
Closed on Sundays and Holidays.
03-5413-7912
Close