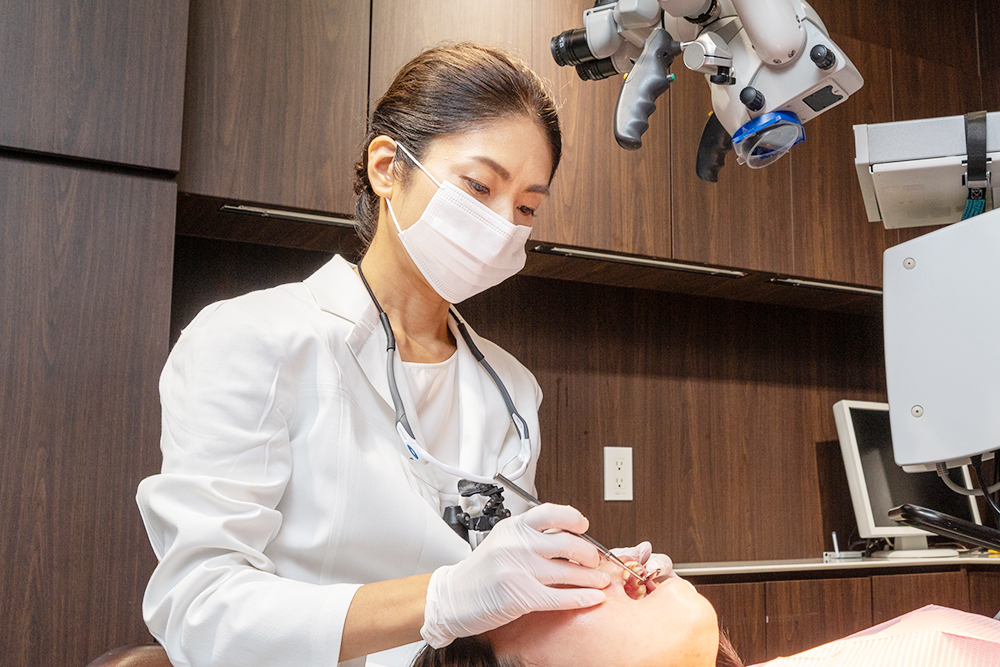 Minimal treatment with early detection
Once adults lose our teeth, they never return to their original state. Not only they are dissolved by acid produced by bacteria in the mouth, but tooth structure removed by cavity treatment will not regenerate. For this reason, early detection and treatment of tooth decay is of utmost importance.
The sooner you find cavities, the less we would cut the tooth structure. In particular, we focus on conservative treatment with as little cutting as possible. We strive to preserve as much of the patient's own teeth as possible and minimize damage.
Caries treatment by stage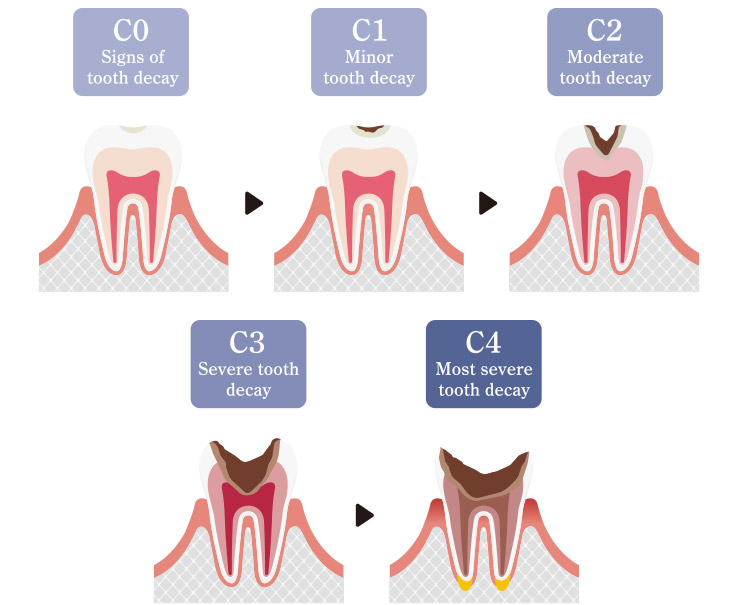 *Tap to enlarge
The treatment of decayed teeth depends on the stage of progression.
Treatment in C0(signs of tooth decay)
C0 is an early stage of tooth decay and does not involve holes in the tooth surface. The only characteristic of this stage is the development of "white stains" described as white spots or cloudiness. There is no need to drill the teeth, and fluoride is applied to promote remineralization. You will be advised how to brush so as to improve your hygiene.
Treatment of C1 (mild caries)
C1 is a cavity in the enamel. It is a relatively shallow hole on the tooth surface. It does not cause pain at this stage, but in some cases, cold objects may sting. The treatment is completed by drilling away the bacterial-infested tooth structure and filling it with a composite resin.
Treatment in C2 (moderate caries)
C2 is a dentin cavity. The holes in the tooth surface tend to be relatively deep and large. Cold and sweet foods can induce a "toothache". After the lesion is shaved, treatment is completed with the fabrication and application of a filling or cover.
Treatment of C3 (Severe tooth decay)
C3 is a cavity that has reached the pulp of the tooth. The nerve of the tooth has been affected and this causes severe pain. The pain can be induced by hot as well as cold and sweet foods. A spontaneous pain called "zing zing" may occur even at rest.
The treatment is completed by removing the nerve of the tooth, performing a root canal, and fabricating and fitting a covering.
Treatment of C4 (The most severely decayed tooth)
C4 is the terminal stage of tooth decay. The crown, which is the head of the tooth, collapses and only the root of the tooth remains. Because the nerve is dead, you won't feel any pain. In most cases, when it has progressed to this point, tooth extraction is indicated. Once the tooth has been extracted, the missing tooth is replaced with a prosthetic, such as a bridge, denture or implant.
Other service lists
Recommended treatments
Comprehensive Oral Examination
For those who want early detection and treatment of tooth decay.
See details
Cleaning
when you want to maintain your oral conditions frequently.
See details
Root canal treatment
For those who are worried about worsening or recurrent worm teeth.
See details
Contact Us
Please feel free to contact us to make an appointment for a consultation
or to ask questions about your treatment.
You can call by tapping the number
By appointment only

Operating hours
9:30~12:30/
14:00~17:30

  
Office Hours

Mon-Sat: 9:30~12:30/
14:00~17:30
Closed

Sundays and Holidays
Office hours
Mon
Tue
Wed
Thu
Fri
Sat
Sun/
Holidays
9:30
~
12:30
〇
〇
〇
〇
〇
〇
×
14:00
~
17:30
〇
〇
〇
〇
〇
〇
×
9-7-1 Akasaka, Minato-ku, Tokyo 107-6206, Japan
Midtown Tower 6F
・ Directly connected to Roppongi Station on the Tokyo Metro Hibiya Line and Toei Subway Oedo Line.
・ 3 minutes walk from Nogizaka Station (exit 3) on the Tokyo Metro Chiyoda Line
・ Eight-minute walk from Roppongi 1-chome Station (Exit 1) on the Tokyo Metro Namboku Line
Terrestrial map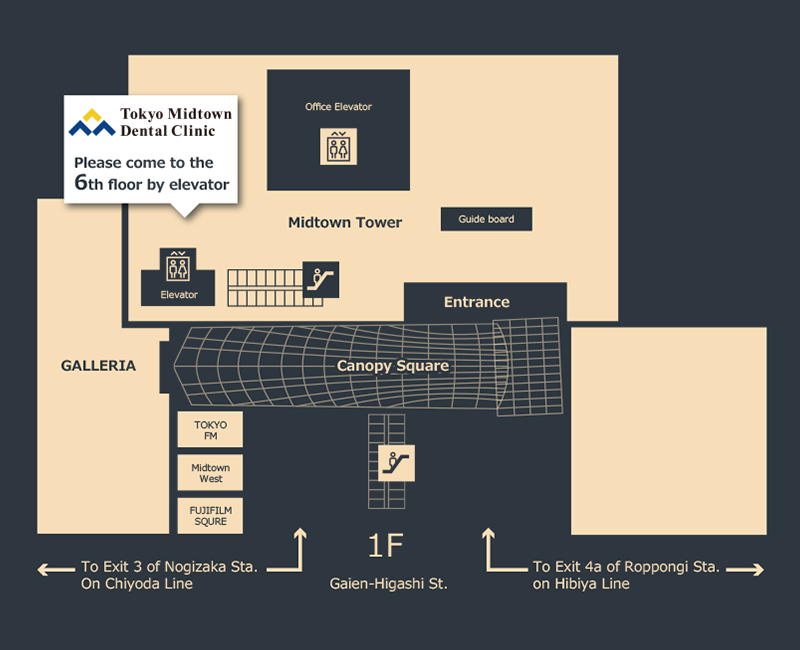 *Tap to enlarge
Inquiries by phone
By appointment only
operating hours 10:00~18:30
Closed on Sundays and Holidays.
03-5413-7912
Close