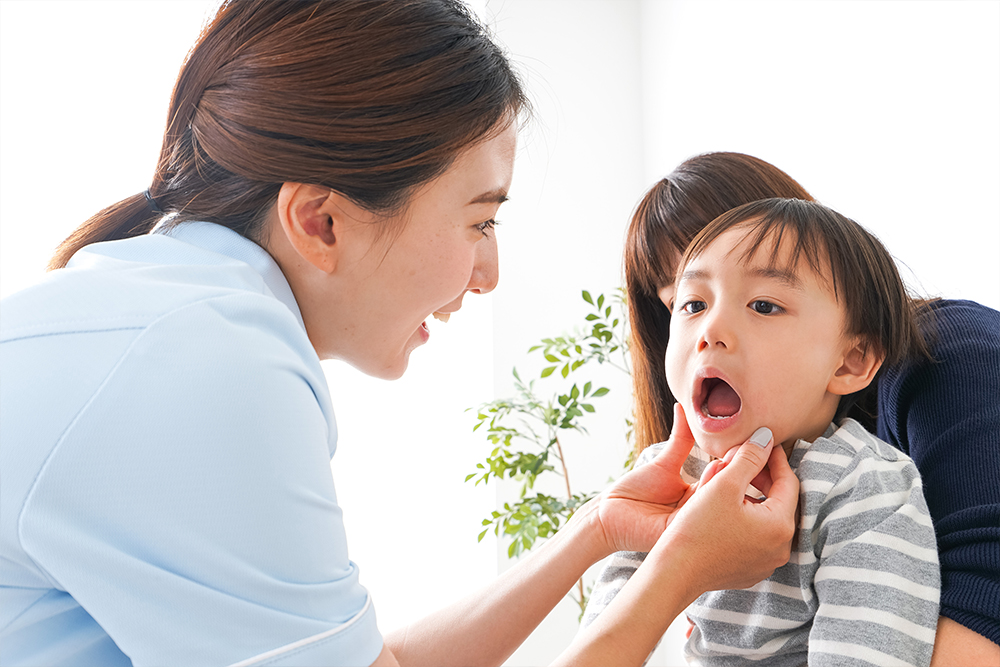 The difference between orthodontic treatment as an adult
Pediatric orthodontic treatment differs in many ways from orthodontic treatment you receive as an adult. This section explains the purpose of pediatric orthodontic treatment and the benefits you can expect.
Treatment to control the growth of the jawbone
The main goal of pediatric orthodontics is to guide the growth of the jawbone in the right direction. For example, lack of growth in the lower jaw can lead to future prominent maxillary protrusion. Alternatively, a lack of upper jaw width may induce snaggleteeth and double teeth. Preventing such expected malocclusions is important in pediatric orthodontics.
Malocclusion can not only be unsightly but can also affect oral health, vocalization, mastication (chewing), and breathing. It is deeply associated with QOL (Quality of Life).
Reduces the need for tooth extraction
Receiving proper orthodontic treatment during the growing years will allow space for your teeth to line up nicely. As a result, the need for tooth extraction is reduced in orthodontic that are received after the growth period.
Prevents tooth decay and periodontal disease
Having pediatric orthodontics may reduce the risk of tooth decay and periodontal disease because you will also receive regular checkups at the same time. In addition, the improved alignment of teeth eases your dental cleaning, leading to maintaining a healthy oral environment.
When to start pediatric orthodontics
There are two main periods to begin kids' orthodontics: Phase I and II.
Phase I Treatment
The first phase of treatment is for children between the ages of 3 and 12 years old.
Phase II Treatment
The second phase of treatment is for children between the ages of 12 and 15 years old.
Kids' orthodontics Menu
Phase I Treatment
Phase I treatment is designed to guide the growth of the jawbone in the right direction. A variety of orthodontic appliances are used to widen the jaw and promote growth. This will help to balance the upper and lower jaws and prevent misalignment of teeth and malocclusion.
Phase II Treatment
In Phase II, we finely correct the misalignment of your teeth. Brackets and wires are used to move each tooth into its correct position. It is commonly referred to as "braces". Non-extraction orthodontic treatment is also possible with the Phase I treatment.
Retention period
This is a treatment to prevent the moved teeth by braces from returning to their original positions. A retainer is placed to prevent backtracking. The retention period is about the same as the tooth movement period.
FAQ
Q:Up to what age can children have pediatric orthodontics?
A

:Basically, this program is for children up to about 15 years old (i.e., secondary school students).

Please contact us if you have any concerns even for young children. For high school students and above, regular orthodontics guidance will be provided.
Other service lists
Recommended treatments
Cleaning
when your think of dental care and development for your children undergoing orthodontic treatment.
See details
Contact Us
Please feel free to contact us to make an appointment for a consultation
or to ask questions about your treatment.
You can call by tapping the number
By appointment only

Operating hours
9:30~12:30/
14:00~17:30

  
Office Hours

Mon-Sat: 9:30~12:30/
14:00~17:30
Closed

Sundays and Holidays
Office hours
Mon
Tue
Wed
Thu
Fri
Sat
Sun/
Holidays
9:30
~
12:30
〇
〇
〇
〇
〇
〇
×
14:00
~
17:30
〇
〇
〇
〇
〇
〇
×
Notice of temporary closure
9-7-1 Akasaka, Minato-ku, Tokyo 107-6206, Japan
Midtown Tower 6F
・ Directly connected to Roppongi Station on the Tokyo Metro Hibiya Line and Toei Subway Oedo Line.
・ 7 minutes walk from Nogizaka Station (exit 3) on the Tokyo Metro Chiyoda Line
・ Eight-minute walk from Roppongi 1-chome Station (Exit 1) on the Tokyo Metro Namboku Line
Terrestrial map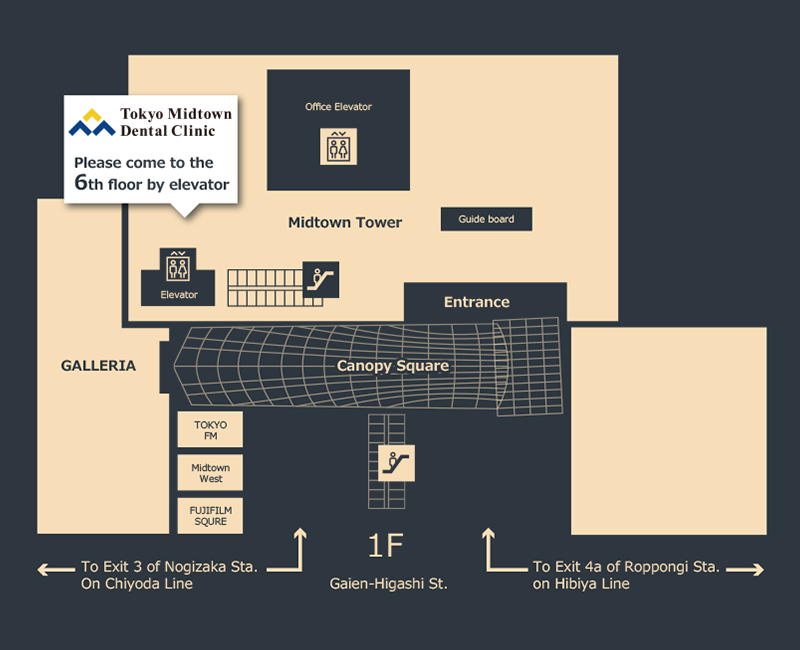 *Tap to enlarge
Inquiries by phone
By appointment only
operating hours 10:00~18:30
Closed on Sundays and Holidays.
03-5413-7912
Close