Appointments
Please read the following instructions before you make online reservation.
Your reservation can be made from 3 days to one month ahead of your telephone call.
Your precise reservation time will be informed to you by our receptionist on the next business day by telephone.
In case you have no contact by our receptionist, please give us a call.
Change of the reservation date/time, or the cancellation is accepted only by telephone.
Choose the date/time you wish to reserve.

The Clinic is closed on Sunday, National Holidays
New Year Holiday
We will be closed for winter holidays from December 30th, 2022 to January 5th,2023.

*The last office hours of the year:December 29th,9:30~12:30 only emergency cases.
Inquiries by phone are available from 9:30~12:30.
*January 6th, 2023 (Friday): Normally Open

Thank you.
For first visitors
①Regarding to appointment time
If you are late more than 5minutes, we may ask for rescheduling.Please arrive here on time for appointment.
②Regarding to payment
We basically take cash for the treatment covered by Japanese health Insurance.If you prefer to pay by credit card, the following fees will be charged.
[Billed amount: Fee]
1,000 yen or less: 100 yen
1,001 yen to 5,000 yen: 300 yen
5,001 yen to 10,000 yen: 500 yen
10,001 yen or more: 5% of the billed amount
③Regarding to any documents for claiming
There will be charge for any documents you bring for us to fill in and it takes approximately 1week.Please let us know in advance if you have any documents with you.
④Regarding to receipt in English
Please let us know in advance if you wish to have a receipt in English.Please note that we only issue one (Japanese or English) and can not be reissued.
Inquiry by the telephone is here
For the reservations of Dental Check-up, Implant, Orthodontics, Ceramic restorations etc, please call us during business hours.
Office hours
Monday-Saturday 9:30~12:30 / 14:00~17:30
Closed on Sundays and Holidays
Contact Us
Please feel free to contact us to make an appointment for a consultation
or to ask questions about your treatment.
You can call by tapping the number
By appointment only

Operating hours
9:30~12:30/
14:00~17:30

  
Office Hours

Mon-Sat: 9:30~12:30/
14:00~17:30
Closed

Sundays and Holidays
Office hours
Mon
Tue
Wed
Thu
Fri
Sat
Sun/
Holidays
9:30
~
12:30
〇
〇
〇
〇
〇
〇
×
14:00
~
17:30
〇
〇
〇
〇
〇
〇
×
Notice of temporary closure
9-7-1 Akasaka, Minato-ku, Tokyo 107-6206, Japan
Midtown Tower 6F
・ Directly connected to Roppongi Station on the Tokyo Metro Hibiya Line and Toei Subway Oedo Line.
・ 7 minutes walk from Nogizaka Station (exit 3) on the Tokyo Metro Chiyoda Line
・ Eight-minute walk from Roppongi 1-chome Station (Exit 1) on the Tokyo Metro Namboku Line
Terrestrial map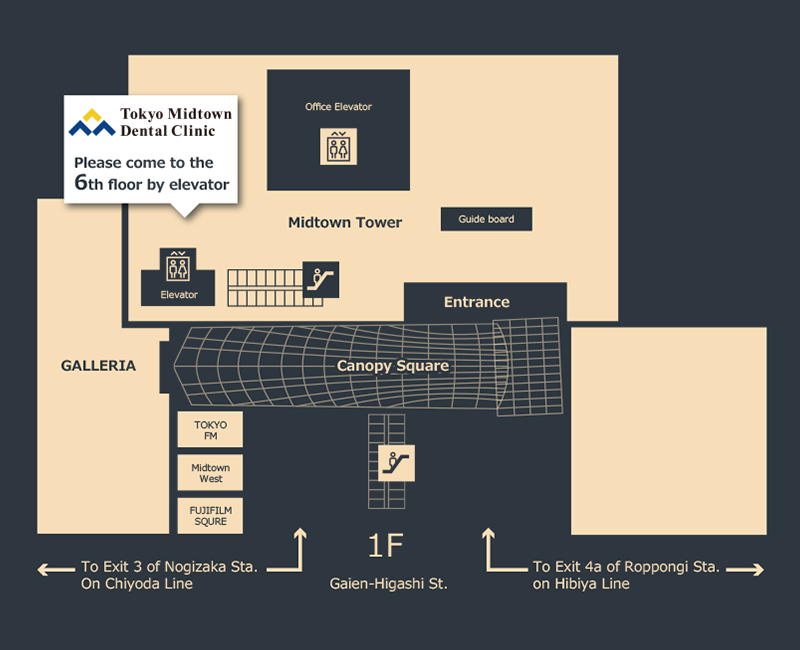 *Tap to enlarge
Inquiries by phone
By appointment only
operating hours 10:00~18:30
Closed on Sundays and Holidays.
03-5413-7912
Close